The Latvia ™, or trade mark - project of Latvian artist's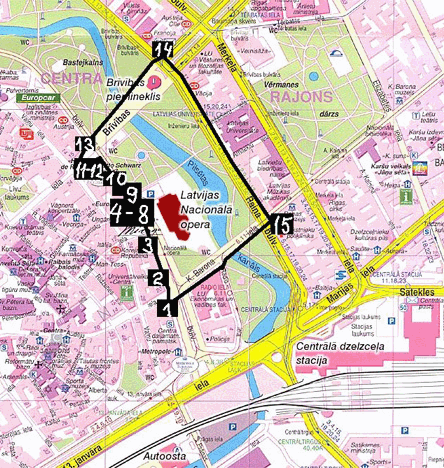 What: art project "Latvija ™" (Latvia ™)
Where: the urban environment of Riga, windows of shops and buildings in the boulevard circle area (see map)
When: May 11-27, 2003 (coincides with The River Daugava Week of the Latvian Culture Foundation as well as the Eurovision song contest)
In consideration of:
The Latvia ™, or trade mark, through which our country could become known, imposing the concept not only on goods but on immaterial national values as well. To begin with, for inspiration it is recommended to take a look at the internet homepage of the Latvian institute, established in 1998. It presents a list of recognisable symbols of Latvia compiled after completing special research - the white wagtail, the ladybird, the daisy etc. (http://www.latinst.lv/lat/lat_li.htm).
Upon perusing (in this printed material) the concept outlines submitted by the artists involved in the project, and their realisation (rush to view the store windows!), it has to be admitted that in this project Latvian artists have also had to deal directly with the question, does such an LV™ even exist - and if it does, what is it exactly?

ARTISTS, WORKS:

Elīna Zunde the tale of the farthing.
Once upon a time there was a bathhouse attendant whose heart's desire was to become rich. One day his dream came true and he found a magic farthing that could never be spent. (from fairy tale by K.Skalbe)
A 2 m tall Monkey with built-in fruit machine in a show window. Bright lighting and décor, text features (the title, excerpts from the fairy tale).
Labirints game arcade, Aspazijas bulv.32

Juris Vīgners, no concept
What happens if the Latvian national standard becomes faded in the sun or the red parts get rolled up?
Sakta, 30 Aspazijas Boulevard

Raitis Zajančkauskas making it
Since the early 90's the concept of "making it" (achieving better social, material etc. position) has been considered a valid aspiration in Latvia. Some have already made it, the young ones are still looking to... the country itself wants to make it, too (EU, NATO)
Nokia, 25 Aspazijas Boulevard

Pure Culture: Simona Weiland, Emīls Rode riga fashion. shop windows
Rīgas modes is an exploration of the aesthetics of Riga's pensioners styles. Certainly no aesthetic view can avoid bearing additional meaning. Pensioners' garments signify the poverty of their owners, who have been wearing the same clothes for decades because they could not afford new ones. They also reveal our nostalgia for times past when clothes were bought to last, before our city's streets were invaded by seasonal, throwaway fashions of developed capitalism.
Hotel Rīga (restaurant windows), Aspazijas bulv.22

Ieva Kauliņa buy or die. marry or die
A direct response to the symbols of Latvia chosen by the Institute of Latvia. Wagtails, ladybirds, linden trees and other fir-trees as brides or widows dressed in wedding or mourning dresses. Advertisement banners in a shop window.
Hotel Rīga (restaurant windows), Aspazijas bulv.22

Kristians Brekte nothing for me, nothing for me..., everything for myself, everything for myself...
Two T-shirt-clad inflatable dolls are placed in the windows of a clothing store. One of them has: nothing for me, nothing for me... written on the front, the other: everything for myself, everything for myself... on the back. One of the dolls is being pressed against the glass by a wall of clothes, the other has garments tidily hung on a rack behind its back.
Hotel Rīga (restaurant windows), Aspazijas bulv.22

Līga Pinne latvia - land of artists
Latvia - land of artists. Portraits by little known artists. What we don't see and know is not necessarily non-existent. Artists who don't advertise themselves and their work.
Hotel Rīga (restaurant windows), Aspazijas bulv.22

Renalds Kārlis Andersons, Pāvils Jurjāns, Pēteris Līdaka, Reins Grants didzis, a new latvian brand
Didzisis a new Latvian trademark, which has been invented and is already being used by a group of friends as an alternative to other marketed brands. It's balancing between easily recognisable trade marks and retro ad slogans seen in easy-reading magazines of the 30-ies.
Didzis is a Latvian trademark and it's targeting the heart and taste of a true Latvian. The Didzis outfits are suitably comfortable for each and every Latvian youth and maiden, be it for physical exercise, stepping out onto the dance floor, toiling away like there's no tomorrow or for the nightly relaxation.
Hotel Rīga (restaurant windows), Aspazijas bulv.22

Māra Valtiņa good quality latvian produce
Old men eat white porridge with white spoons from a white bowl. When they get tired after an hour or two, a relief takes over. There are some 2-3 shifts.

Artūrs Arnis riga connecting people. the beautiful reality
Place of action: the city centre of Riga. Time: a sunny afternoon. People: young, careless, parading trendily dressed girls. Action: they are asked to pose for a photo shoot accompanied by an unfamiliar young man but they must agree to being kissed. The benefit: a captured moment of previously unfamiliar people kissing in the centre of Riga. Riga (Latvia) as a new free, open, stylish and sexy city.
Sixt, Boutique Royal, Kaļķu iela 28

Gints Gabrāns earning opportunity
Opportunity to earn money! Oriental-looking people sought for shooting documentary footage for TV news reports from the hot spots of the world. To verify information call 7092101.
(conference room windows), Kaļķu iela 28

Monika Pormale peace 6,66
(currency exchange), Kaļķu iela 28

Ineta Sipunova, Kristaps Rozītislielvardes' sash
Latvian trade mark: lielvarde sash.
McDonalds, 18 Basteja Boulevard

Una Meiberga sadarbībā ar Linardu Kullesu usher rams
Slaughterhouses keep special rams, which are used to the smell of blood. Sheep tend to refuse to budge whenever they smell blood. On such occasions these trained rams are mixed into the flock and they lead the sheep straight to the slaughterhouse in a very confident manner.
Elkor modes,19 Brīvības Boulevard
Monika Pormale want nothing for no money
A writing on a building facade 25 Raiņa Boulevard